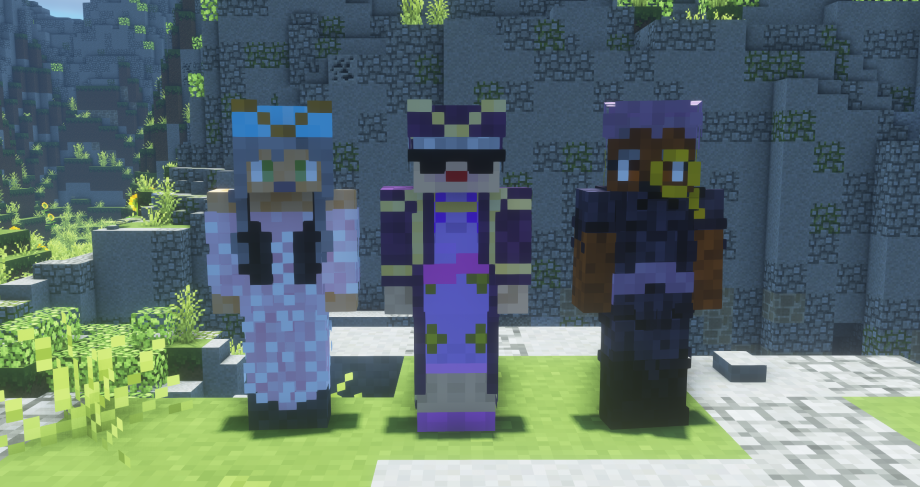 ❃❃❃❃❃❃❃❃❃❃❃❃❃❃❃❃❃
Welcome to Grandma's House!
LGBTQ+ | Survival | Hub | Events | Safe Space | 1.18.X


We are a public LGBT+ SMP, who just opened our brand new 1.17.1 world

Grandma Katie (she) is a timeless bisexual grandma, who is in a happy polycule with Grandma Fiona (she) and newly found Grandma Ruth (she/they).

She has had this LGBT+ SMP since January 2020.

We have many possibilities! Build a great castle, become a mayor of a town, make stonks, anything your heart pleases.


LGBT+ Safe Space

Keeping you safe from nasty griefers, we have the plugins GriefDefender and CoreProtect, and keeping you safe from nasty LGBT+phobes, we have an active staff team with a zero tolerance to LGBT+-phobia of any kind.

We strive to be a cozy little safe corner of the big and scary internet. This means a zero-tolerance of drama, toxicity, mean spirited bullying, as well as debates, politics, bigotry and NSFW topics.

We are not experts, but most of the staff team happens to be LGBT+ identifying. You are not alone.

Technical Details

Central for the server, are the P-Warps for player made towns, markets and the like. They can be bought with in-game money.

We have both ranks that you can buy on the website with real money, but also ranks that you can buy with in-game money, keeping a balance between making the server financially sustainable, while not submitting to p2w mechanics.

You learn plugins as you go; You can just ask about them, or checkout our Guidebook!
Our 1.17.1 world is loaded in with custom terrain and structures through Terra, a terrain generator, and we have a custom ore generation. Below level 8, you can find deepslate, deepslate ores, calcite, tuff, amethyst and moss blocks.

Tumblr: https://grandmashouse.tumblr.com/
Discord: https://discord.gg/M9rbHTm
Website: https://web.grandmas.house
Dynmap: http://map.grandmas.house/


ps. we are rat and frog friendly :3
❃❃❃❃❃❃❃❃❃❃❃❃❃❃❃❃❃
Are you here to appeal a ban? Click me
❃❃❃❃❃❃❃❃❃❃❃❃❃❃❃❃❃
Terms of Service
- No refunds in general

- When a rank is bought, it should never expire. You have it for life time.

- The rank ties to username & UUID

- If rank systems change, you will recieve dispensation accordingly
- If you get perma banned from the server, we do not refund your purchases
- Cheating the system or somehow abusing store glitches will get your rank revoked